The Complete Package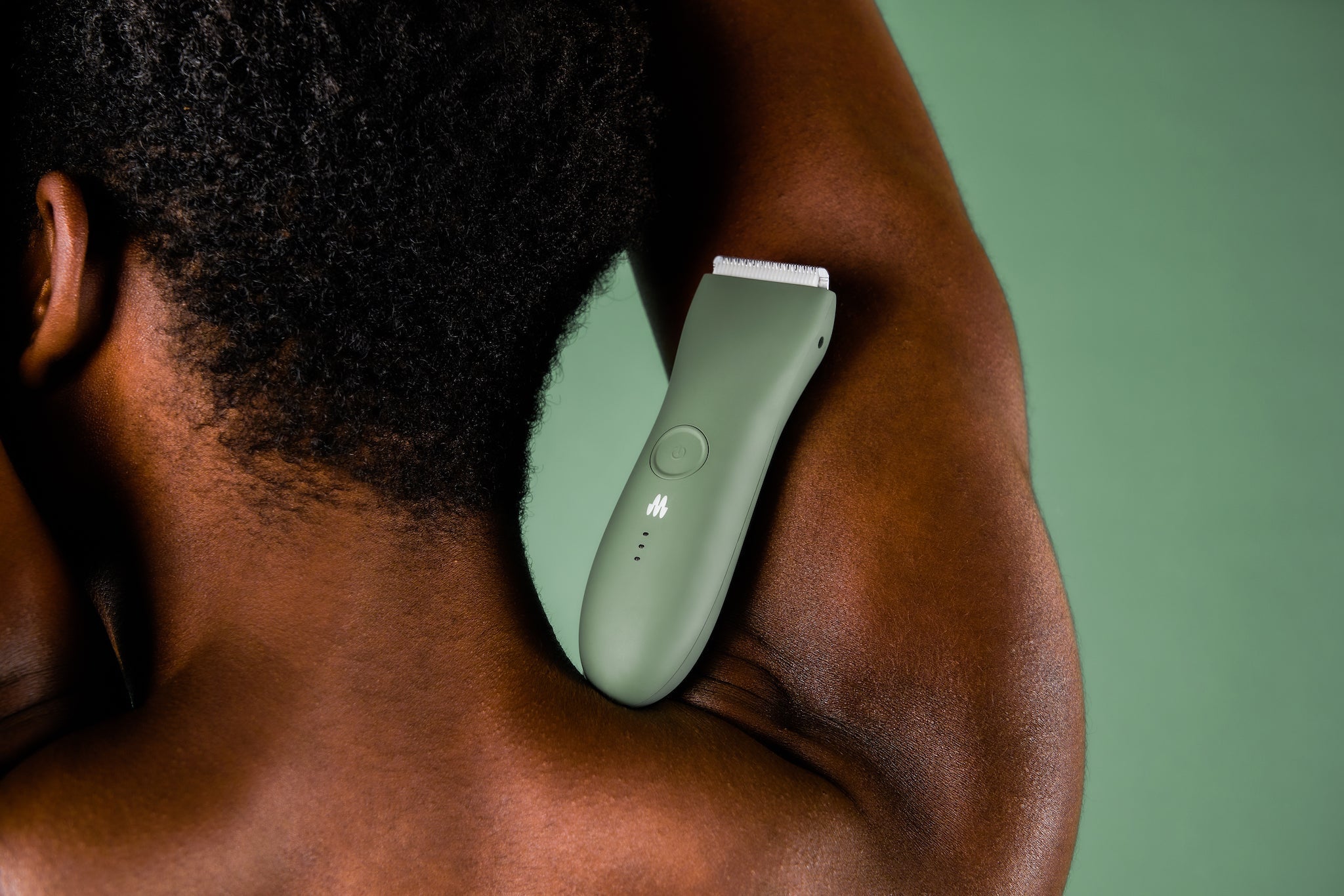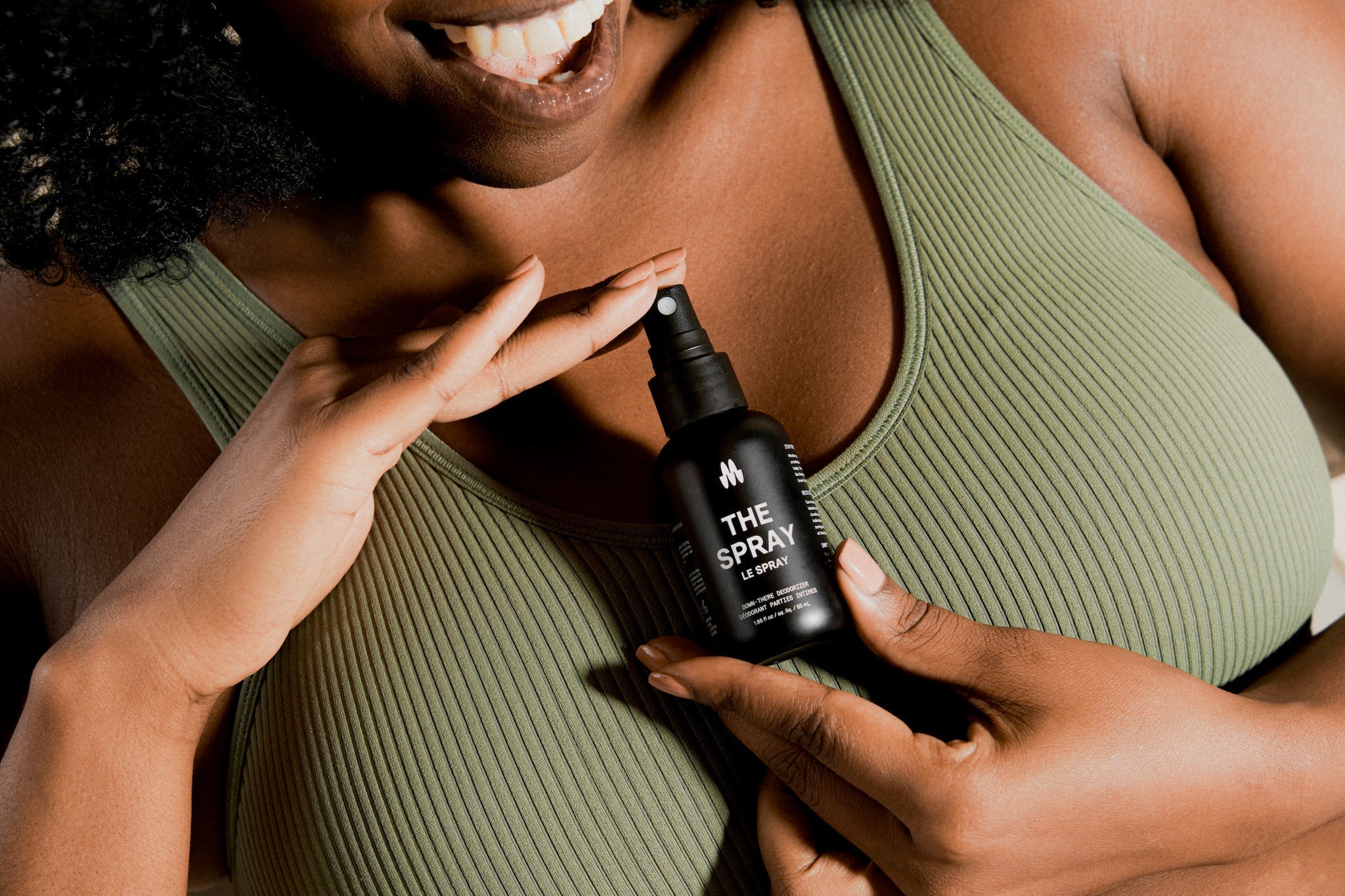 The Complete Package
*Tax included
Power duo kit featuring our rechargeable trimmer & pH balancing spray.
Compare Trimmers
Whats the difference?
Trimmer vs. Trimmer Plus
| | | |
| --- | --- | --- |
| comparison | Trimmer Plus | Trimmer |
| No-nick, no tug | | |
| Top tier trimming | | |
| Bare, Buzz, or Bushy Styles | | |
| Waterproof | | |
| LED guide light | | |
| For the jetsetter | | |
Product Overview

We'll get to the point. The Complete Package is the ultimate grooming set that delivers the essentials for grooming head to toe.
The secret to better-for-you grooming and hygiene habits?
Just 2 easy steps.
This personal grooming kit includes our waterproof Trimmer and citrus-infused Spray that create a simplified routine for an all day fresh feeling.

Benefits

• Get 90 minutes of trimming time before you recharge
• Enjoy smooth, safe trimming from your facial features to your private parts
• Experience self-grooming with no nicks, tugs, or cuts
• Level up from basic hygiene and grooming with The Spray's soothing anti-chafe formula

What's in the box

• The Trimmer
• The Spray (55mL)
• 2 adjustable guide combs (3-6mm, 9-12mm)
• Cleaning brush
• USB-C Charger
BARE, BUZZ, BUSH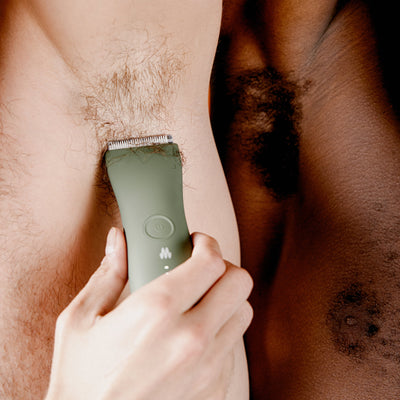 BAREWithout a guard, our trimmers give you a barley-there look. What does that mean? It doesn't shave as close as a razor but provides a safer, just-above-the-skin, 3mm trim.BUZZUse a shorter guard or guard setting on your Meridian trimmer to clip your body hair down from full and flowing to a neat and tidy 3-6mm length.BUSHGo loud and proud with a 9-12mm guard that evens out length and tames anything unruly so you can rock your body hair almost au natural.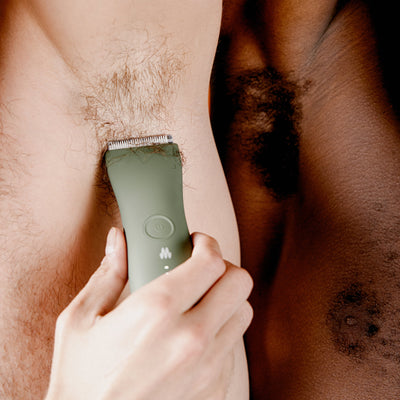 No Nicks, No Cuts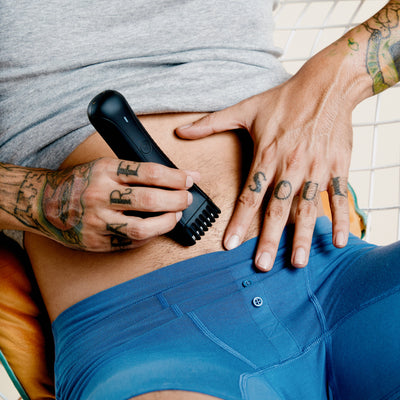 No more nicked junk, bikini line razor bumps, or itchy post-shave burn.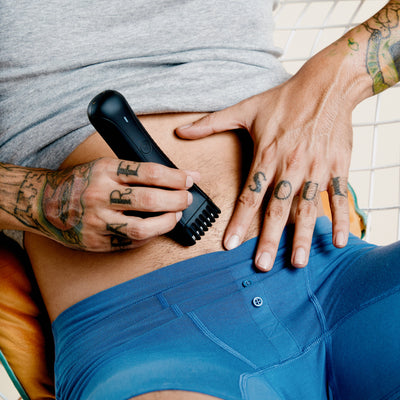 Ergonomic Design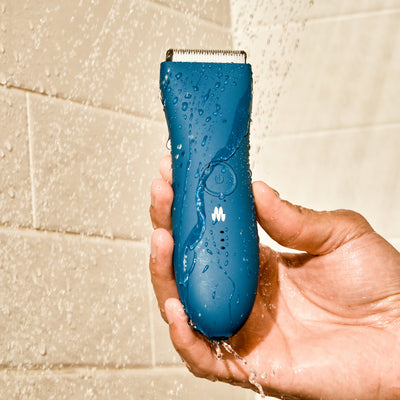 Our waterproof trimmers are designed to fit seamlessly in your hand for a smooth glide.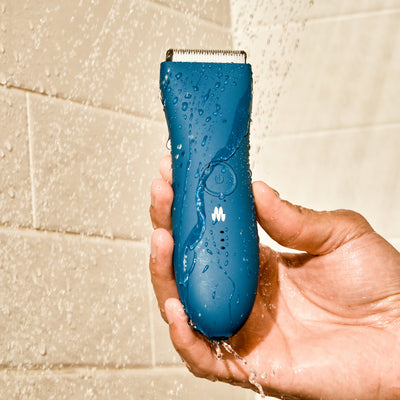 For Hair. Anywhere.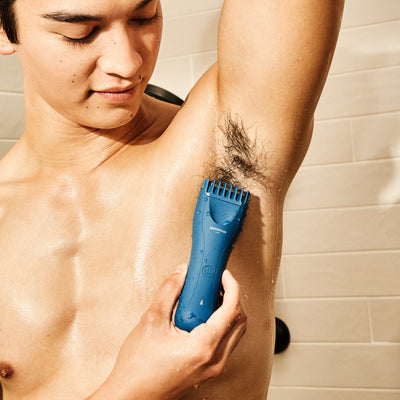 There's no such thing as a 'proper grooming routine'.
Feel free to groom where you want to, from your pits to your pubic area.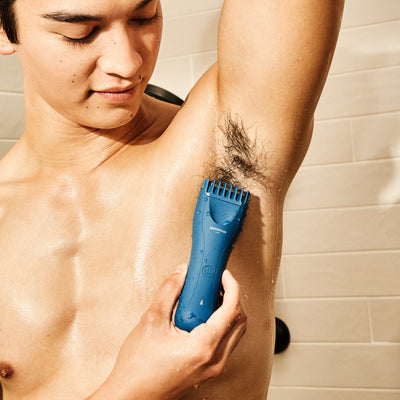 WHAT YOU NEED TO KNOW
Frequently Asked Questions
Where can I use the Trimmer on my body?

Our signature personal Trimmer is designed to be safely used anywhere on the body to create your desired look.
You can trim your arms, groom your legs, spruce up below the belt … the only limit you could have is your imagination.

Will the Trimmer irritate my skin?

Nope! The Trimmer features a high-quality ceramic blade that is safer and gentler on the skin than a traditional body hair removal tool.

Do I need to replace the blades?

Yes! Personal grooming is best done with a sharp blade.
In order to maintain safe, precision-grade trimming - we recommend that you replace your blades every 3 - 4 months depending on usage.

Do you offer a subscription?

Yep! Because why waste an opportunity to deliver superior personal grooming to your doorstep on a regular basis?
At this time, we offer a quarterly subscription plan for the Replacement Blade and The Spray.
You can sign up for a subscription when you purchase The Trimmer or any Meridian Bundle.
There is a Subscribe & Save option available at checkout.
To learn more, head to our full FAQ page.

Where can I use the Spray on my body?

The Spray has a gentle, soothing formulation that enables you to use it anywhere on the body where you need a refresh.
It's popularly used below the belt as well as on the underarms to maintain personal hygiene.
If you need a more in-depth guide, then head to our How To page to get a step-by-step breakdown!

Is the Spray meant to be for pre- or post-grooming care?

While the Spray is primarily used for post-grooming care to soothe irritation, it also boasts a citrusy scent that is perfect for freshening up throughout the day.
So, go ahead and spritz your heart out.

Is the Spray cruelty-free?

Yes! The Spray is cruelty-free, artificial fragrance-free, synthetic dye-free, alcohol-free, paraben-free, sulfate-free, phthalate-free, and silicone-free.